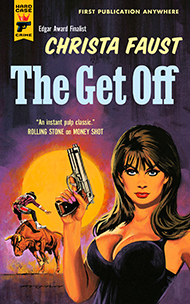 Hard Case Crime brings you the best in hardboiled crime fiction, ranging from lost noir masterpieces to new novels by today's most powerful writers, featuring stunning original cover art in the grand pulp style.

Authors include award-winning modern masters like Stephen King, Joyce Carol Oates, Lawrence Block, and Donald E. Westlake, Golden-Age giants like Erle Stanley Gardner, James M. Cain, and Ray Bradbury, film auteurs like Brian de Palma and Samuel Fuller — and newcomers we predict will be the next generation of hardboiled bestsellers.

We also publish comics and graphic novels:

"One hell of a concept. Those covers brought me right back to the good old days."
—Mickey Spillane

To find out about a book or order a copy, click on its title:

For updates, announcements, and a chance to win free books, enter your e-mail address below:
For more information, contact us at info@hardcasecrime.com.
Copyright © 2004-2023 Winterfall LLC. All rights reserved. Privacy policy.